Because we have one veterinarian practicing at Lofton Creek Animal Clinic, we specialize in the care of your companion pets that includes:

We're pleased to offer the following services in our veterinary Clinic: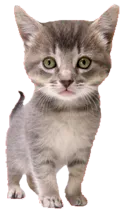 Wellness Care/Checkups
When your pet gets their annual wellness checkup, here's what you can expect. First, your pet will be checked over in a general way that starts with a physical examination. This is done to help catch any potential obvious problems such as deformities, growths, areas of pain or discomfort, or mobility issues.
During the visit, you'll discuss your pet's health at home, and you'll have the opportunity to convey anything that may be concerning you, such as changes in behavior or appetite, or anything else that's changed since the last visit. Your vet will also ask you specific questions in order to highlight common potential issues.
Next, your pet's file will be reviewed, with an eye toward ensuring that all preventative treatments and any local government mandated animal treatments are brought up to date during the annual wellness checkup. These may include things like:
- Vaccinations
- Parasite control treatments
Wellness Services
Annual wellness checkups provide the chance for your pet to receive needed diagnostic procedures and treatment in a wide range of service areas. Additional services that may be conducted during your pet's annual veterinary check up include items such as:
- Microchipping
- Dental exam
- Blood testing
- Heartworm testing
- FIV/FELV testing
- Parvo virus testing
- Fecals
- and more
Wellness Checkups for Special Situations
Consistent wellness checkups are also crucial for pets that fall into special categories, such as aging pets and puppies and kittens. Senior Pet Care
Older pets often develop a range of age-related issues, such as loss of appetite, mobility challenges and failing eyesight. Veterinary wellness checkups support the health aging of your beloved pet to help ensure quality of life for as long as possible.
Surgical services- Lofton Creek Animal Clinic offers a wide range of surgical services for your pet such as ovariohysterectomy, castration, mass removal, cystotomy, minor orthopedic procedures, and much more. Referral to a specialist may be required for treatment of some medical issues.
Dental- We offer routine cleanings, digital dental radiographs and extractions if indicated. Once your pet's teeth are clean, we can give you tips and tricks to help you remove food particles and plaque at home between professional pet dental cleanings, like pet-safe toothpaste and toothbrushes as well as dental chews
Surgical Services includes spaying of female cats and dogs and neutering of male cats and dogs. Dr. Dunn recommends spaying and neutering early in your pet's life to prevent unwanted pregnancies, abortions, and possible health problems later in life. Growth removals, spay and neuter, biopsies, abortions, removal of items swallowed such as fishing lures, pins and clothing are all included in this category. Referral to a specialist may be required for treatment of some medical issues.
Appointments
Our appointment book is computerized which allows us to make appointments for you and your pet. Appointments that aren't rescheduled within 24 hours will be charged $65.00. Our front desk personnel will attempt to accommodate all requests to the best of their abilities. Emergency appointments $100.00 plus treatment and other expenses will apply.
Payments: Lofton Creek Animal Clinic accepts payment via cash, MasterCard, Visa, Discover, American Express and Care Credit. So that we can continue to provide you service, payments will be made at the time services are rendered.
We always provide estimates for all surgeries and hospitalizations to the best of our abilities. If you have not received an estimate, you are welcome to request one at any time for your expected charges.
Discounts: Military and first responders 5% off on certain services.